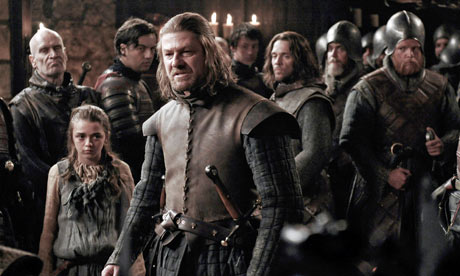 This show gets a lot of talk. I read a bit about it because we have enjoyed dark TV series like Breaking Bad, 24, Downton Abbey, etc. What I found strange about Game of Thrones is that Catholics seem so confused by it. Many people who claim to be faithful Catholics watch it and recommend it. Yet nobody debates the basic facts. That is that it contains very explicit sex. There is a lot of it. That much of it is gratuitous. That is it does not serve the plot or character development in any way.
The fact that it is so popular and so well reviewed is a frightening commentary on today's society. Yet you would expect at least serious Catholics to get it right. I mean we have bishops that talk about the dangers of pornography. Even the USCCB has a document on pornography. They must be talking about something. Why are they not talking about Game of Thrones?
That is a hard question because nobody says there is any moral line Game of Thrones somehow fails to cross. That there is something they don't show that prevents it from being considered porn. They include a wide array of sexual perversions. They shoot the scenes leaving nothing to the imagination. If this is not porn then what is? Yet Catholics, including not a few priests, seem to feel they are somehow above being influenced by such material. Like we can somehow be immune to the deadly sin of lust.
You often hear rationalizations referencing Theology of the Body. It is true that St John Paul II did say art involving the nude body can be glorifying to God. Fundamentalists respond to this by saying if you open the door a little it is a slippery slope. The trouble is that Catholics are proving the fundamentalists right by being dishonest in their discernment. They assume if any nudity in art is OK then all of it is OK. That was not St John Paul's point. A little knowledge is dangerous.
John Paul said pornography showed too little of a woman rather than too much. Electronic images have the problem worse than paintings and sculpture. That is they copy the physical image so quickly and so accurately that they miss the spiritual and emotional essence of a woman that art like that must capture. He also does not approve of showing men and/or women engaged in sexual acts which is what Game of Thrones is has a lot of. The catechism makes this rather obvious point:
2354 Pornography consists in removing real or simulated sexual acts from the intimacy of the partners, in order to display them deliberately to third parties. It offends against chastity because it perverts the conjugal act, the intimate giving of spouses to each other. It does grave injury to the dignity of its participants (actors, vendors, the public), since each one becomes an object of base pleasure and illicit profit for others. It immerses all who are involved in the illusion of a fantasy world. It is a grave offense. Civil authorities should prevent the production and distribution of pornographic materials.
Then people point out that Game of Thrones gets high marks from many critics. So what? First of all, you should not assume critics are less influenced by their baser instincts. They are human. They will rationalize bad behavior just like we will. Are there interesting characters and compelling stories? Some for sure. I remember when Playboy was the porn of choice. They always had some articles in that magazine. Some were pretty good. Nobody was fooled. If you said you bought Playboy for the articles people would laugh. I guess society is less aware of the human power of self-deception now.
The last argument is always the biggest self-deception. It does not effect me. When I was a teen you would hear this about sexual music. People were not brazen enough to claim watching sexual videos was not impacting them but they did say it about a constant stream of impure music they would choose to listen to. It just is not true. Our subconscious is a huge part of who we are. We don't understand how it gets formed but the more garbage you put in the system the more you are likely to get out.
The choices about what art to consume and what art to reject as porn is a hard one. Still it needs to start somewhere. Game of Thrones is the easy part. It is so offensive, so frequently and so predictably that if we can't say No to this then what can we say No to? The fact that so many seem to be having such a hard time rejecting even the most perverse material is quite scary.